Welcome to Kocokookie Vizsla Kennel which is situated in Hingham, Norfolk, a quiet country town surrounded by fields and beautiful countryside.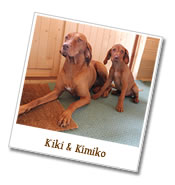 This kennel has been created from a love of Hungarian Vizslas by the owners Matt and Eve Cooke who both believe that Vizslas are a truly exceptional breed of dog which can thrive equally well in both a family home pet environment and as a working gundog, for which they are a renowned winner being one of only 7 recognised breeds that hunt, point and retrieve (HPR).
Visit our Gallery page to see pictures of Kiki and Kimiko our very special girls and the pups from our first two litters.
Telephone: 01953 851310 Email: info@kocokookievizslas.co.uk